There is a new trend for restaurants: the traditional paper menus are being replaced by digital menus with QR code.
You can create a contactless menu with QR code for your restaurant and publish it online using BuonMenu. Then your users can simply scan the QR code with their smartphone in order to read your menu.
In this article we'll see:
What are the advantages of QR code menus
How a QR code menu works
Example menu with QR code
Tutorial for creating a contactless menu
How to show the QR code menu in the restaurant
How to open a menu with QR code on your smartphone
Clean and safe
When you sit in a restaurant and they give you an old sheet of paper, the first impression is not the best. A menu with QR code can be an interesting and cheap alternative.
When you provide a digital menu with QR code your customers don't need to touch a paper menu. This is especially useful after the outbreak of the Coronavirus, in order to avoid that the same menu is touched by multiple people. This is also an official recommendation in Italy and in other countries.
A digital menu is always clean and sparkling, it doesn't require constant cleaning and you don't need to print it again.
Advantages of a QR code menu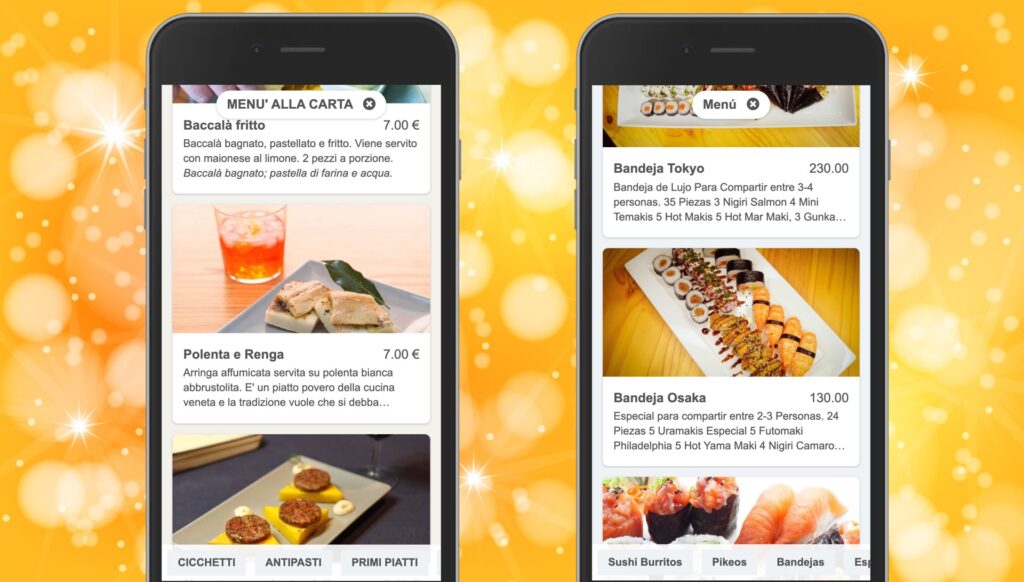 The main reasons for using a QR code menu include:
Smart
Easy to update and always updated
Make experiments, since you can change it easily
Clean and sparkling
Easy translations
More information and photos, without making it hard to read
Online, it can be read in the restaurant or from any other place
Direct links to social to boost your followers
More space on the table and unlimited copies of the menu
Eco-friendly
How a contactless menu works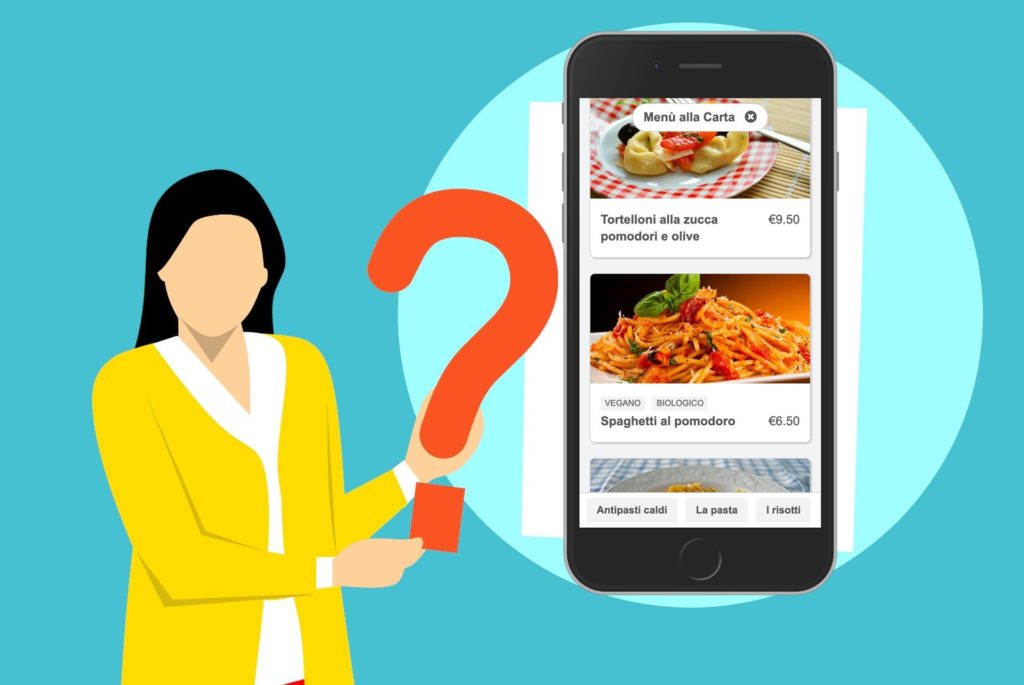 In order to create a digital menu with QR code you need to follow these simple steps:
Publish your restaurant menu online (you can use a professional solution like BuonMenu or a free alternative like WordPress or Google Drive)
Now you have a link to your online menu (e.g. buonmenu.com/restaurantname)
Open a free QR code generator and convert the link to a QR code (basically when you scan the QR code with your smartphone you open the link)
Add the QR code to your printed materials (e.g. a business card or flyer). You can also use a place card holder to hold the flyer. Or you can simply print the QR code on a large sheet of paper and put it in a visible place in the restaurant.
Finally, people scan the QR code with their smartphone camera and your online menu is opened immediately.
You can also read the frequently asked questions about digital menus for more information.
Example menu: try to scan this QR code
Open the Camera app on your smartphone and point to this QR code in order to see an example menu: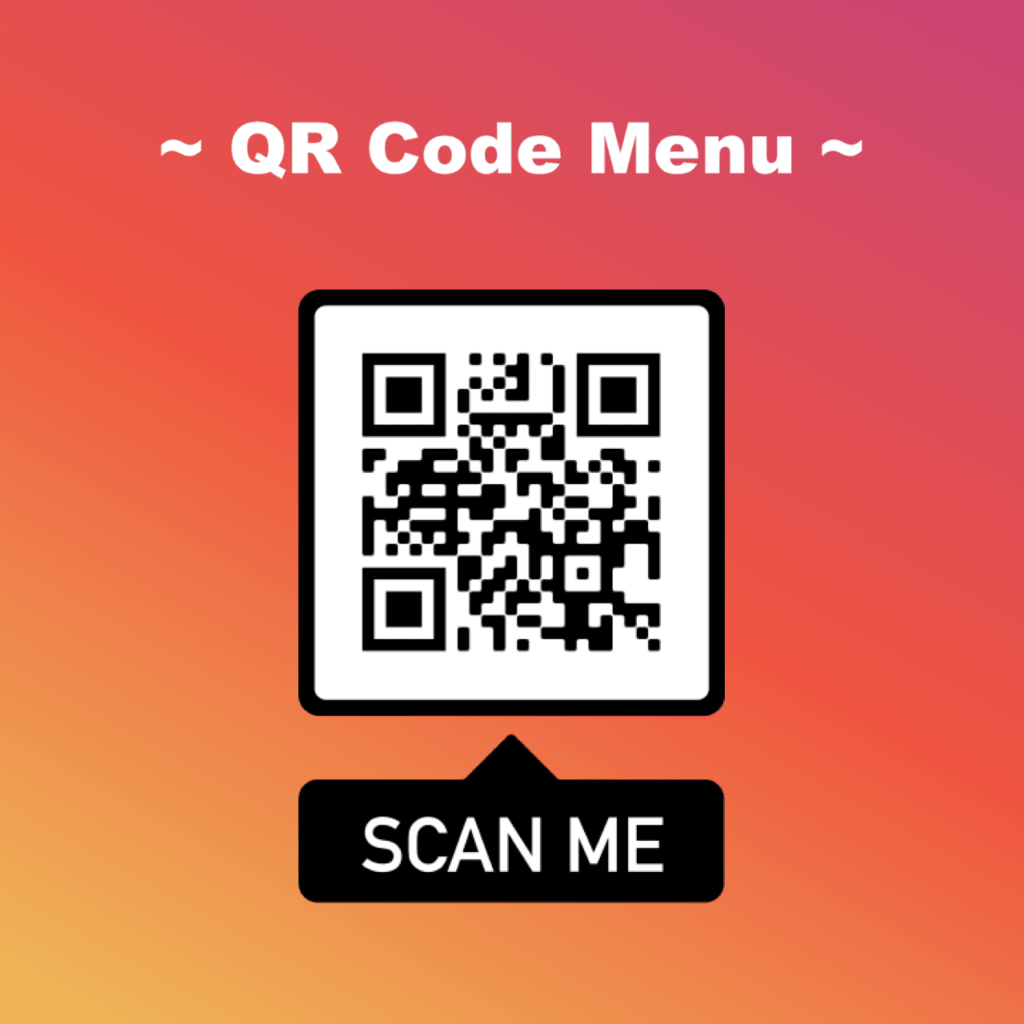 How to create a QR code menu
You can create a contactless menu for your restaurant easily.
You just need to sign up to BuonMenu.com and add your menu items. Here's a complete guide.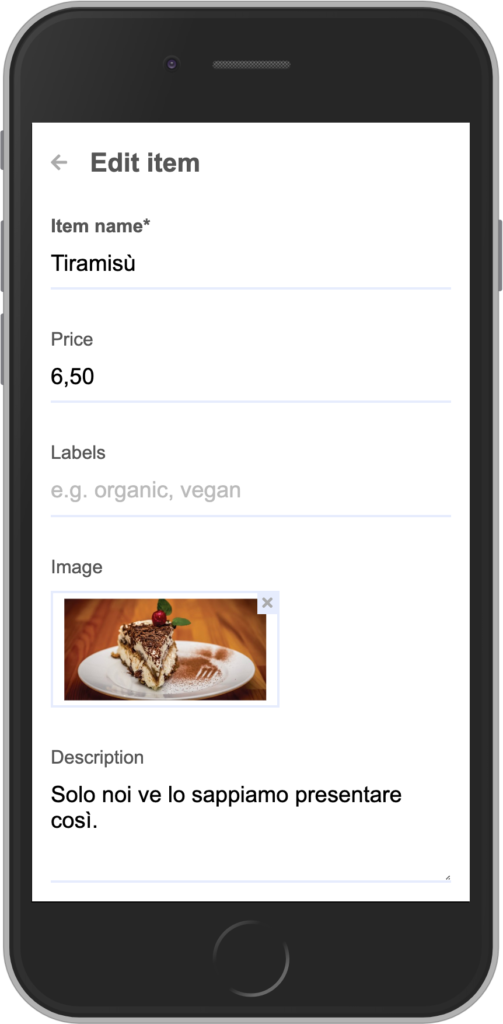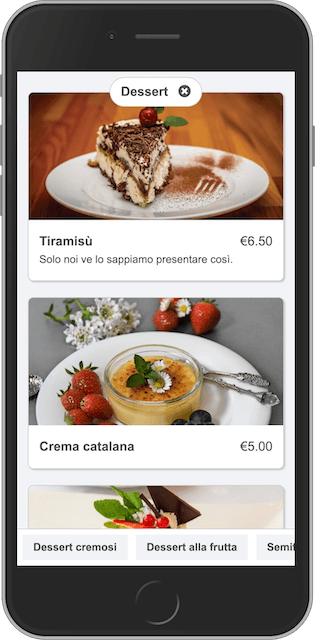 The first step for creating a menu with QR code is to publish your menu online. Then you can simply convert the link to the online menu into a QR code.
You can create multiple menus (e.g. Daily menu, À la carte menu, etc.) and update them at any time. Each menu is divided into categories and for each item of the menu you can add photos, descriptions, ingredients, labels... all the fields are optional, so if you want to get started fast you can just add some items with the price.
Also note that you don't need technical skills or design skills: you just need to enter your contents (and maybe some photos) and the menu is generated automatically.
Show the QR code in your restaurant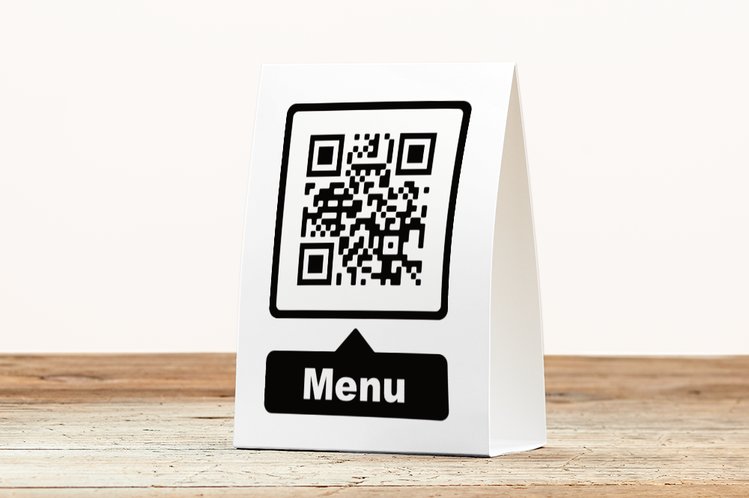 A table tent with a QR code menu. Alternatively you can use a business card or a flyer.
Users can open the menu using a link (buonmenu.com/restaurantname) or a QR code.
You can download the QR code directly from BuonMenu or you can use a QR code generator.
Finally you just need to put the QR code (or the link) on a business card, for example, and your users will be able to open your menu easily: they simply scan the QR code (or type the link) in order to open your digital menu. Here's some other ideas on how you can tell your users about your contactless menu.
Easy opening of the menu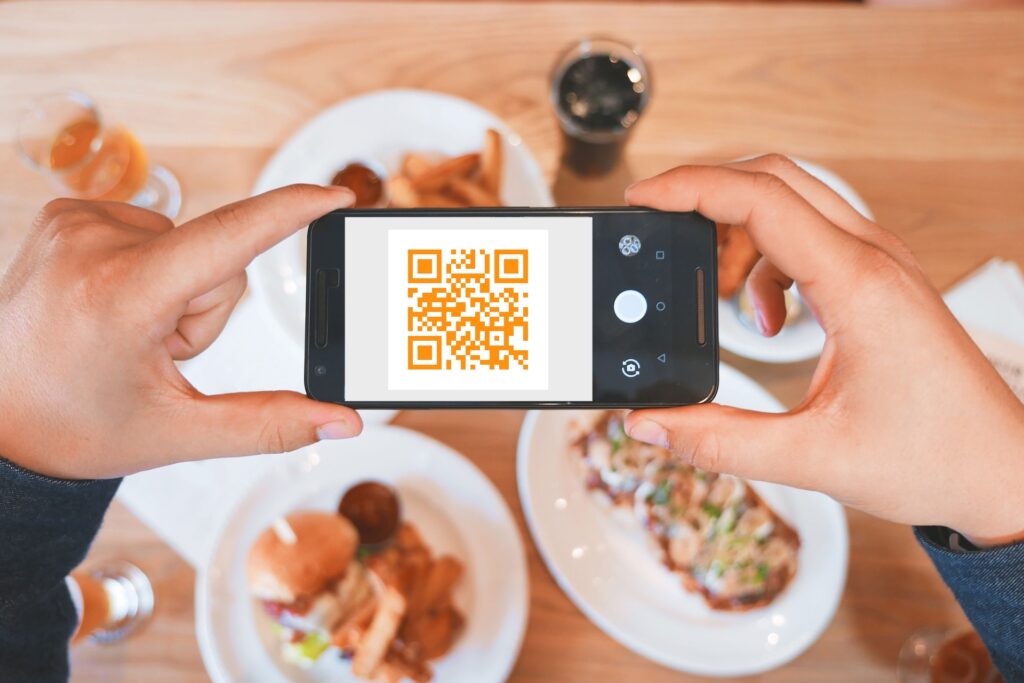 You can simply point the smartphone camera to the QR code in order to open the menu.
A great thing about BuonMenu, that makes it different from other solutions, is that it is extremely simple for the user to open the menu: as soon as the user scans the QR code with his smartphone camera, the menu is opened. So the user will see a beautiful, professional menu instantly: no sign up, and no downloads required. Users will be grateful to you for not having to install another app just to read your menu!
Here's a video that shows the opening of a digital menu created with BuonMenu: