One of the advantages of a digital menu for restaurants, like BuonMenu, is that you can include useful links directly inside your menu. In this way your guests have immediate access to relevant information and you can promote actions that are valuable for your business.
If you use a traditional menu on paper it's difficult to give a link to your customers: you could either tell them to search something online or print the link on paper, however that is not straightforward and the whole process is cumbersome.
On the other hand, if you use a digital menu, your customers can easily open the menu (e.g. using a QR code or using a link on Instagram) and then they have access to multiple links. Then they can simply click any link on the web page (the digital menu), rather than having to type manually the links that they read on paper.
Including some links in your menu can have a positive impact for your business, so let's see how to add the links to your digital menu and what are some of the most useful links that you can include in your digital menu.
How to add links to your digital menu using BuonMenu
First of all you need to create a digital menu using BuonMenu.
Then you have two options to include the links:
go to Profile and fill in the relevant fields, like Website and Social links: this links will be displayed as small links, with specific icons, above your digital menu
alternatively, you can click Add link in the top navigation to add some custom links to your main menu: these links are prominent and can contain custom text (they are displayed as large buttons just below the menus).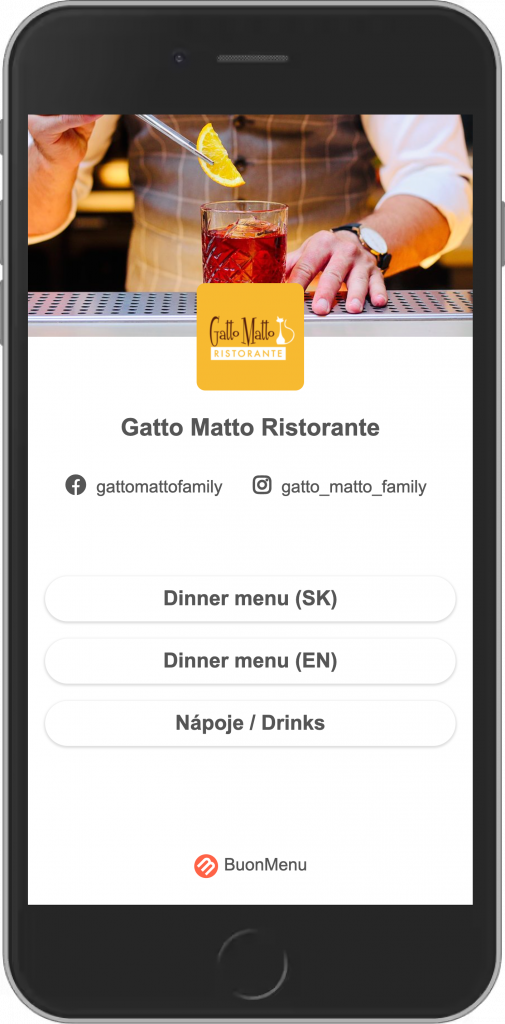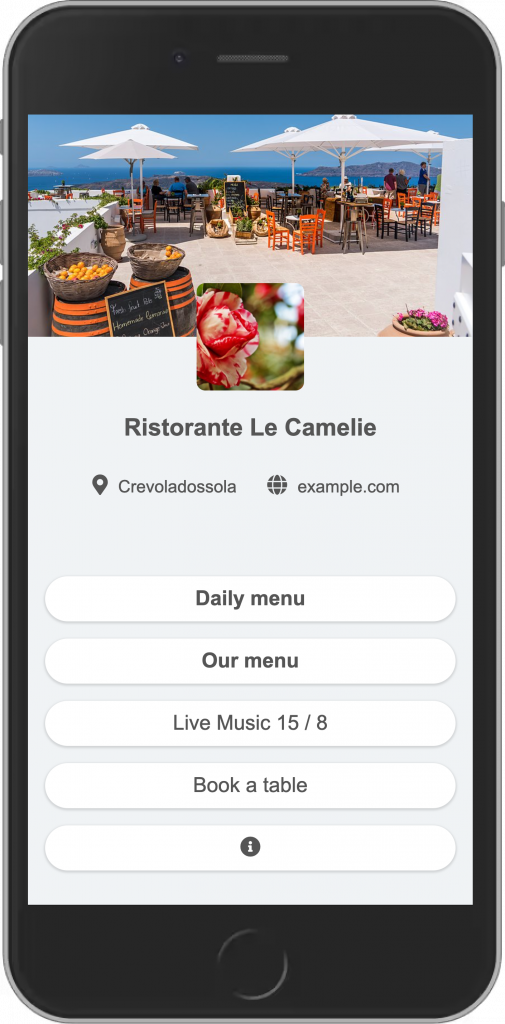 Examples of useful links inside a digital menu. In the first example there are some social icons at the top. In the second example there is a website in the top navigation and some specific links inside the menu: a link to promote an event organized by the restaurant and a link to book a table.
Examples of links that you may want to include in your restaurant menu
Here's some useful links that you can include in your restaurant menu:
link to an event: you can promote an event that is going to take place in your restaurant, for example giving a link to the specific event on Facebook (this can increases the likelihood that your customers receive a reminder for that event)
link to a service offered by your hotel: sometimes hotels and resorts offer extra activities and special experiences to their guests and the menu is a good place to promote that
link to interesting activities or events nearby (instead of leaflets): instead of leaflets inside the restaurant or in the reception, you can use the digital menu to inform visitors about interesting destinations and activities nearby
follow us on social media: links to social media, either in the top navigation or in the main navigation, can help increase the number of followers on social media
link to a form for newsletter signup: some restaurants may use mailing lists to reengage their customers and the menu is a great place to collect subscribers (you can use a form like Mailchimp-hosted signup form, Sendgrid signup forms or similar services)
link to the official page of an award: if your restaurant got an award or an article from a newspaper you may want to showcase that
link to an article or video: if you made a presentation video of your restaurant on Youtube or there is other relevant content online you may want to add a link to that
link to a form for collecting feedback: you can easily add a link called "Leave feedback" and point to a feedback page created with Google Forms
collect more reviews on Google: you can create a link called "Leave a review" to increase the number of reviews for your business (how to create the link for reviews)
table reservation service: if your restaurant uses a service for table reservations you may want to include a link in your menu (e.g. "Book a table")
delivery service: you can add a link to a food delivery service, in case someone opens your digital menu from home
any useful information or thing that you want to promote.