Are you still using paper menus? It's time to move to digital menus. BuonMenu is the latest kind of digital menu and allows your users to browse the menu directly on their smartphone (or on any other device).
It's extremely easy to create a menu online using our menu builder. You just need to add some information (text and some images) about your products, and the design will be generated automatically. Et voilà... your menu is online and always accessible.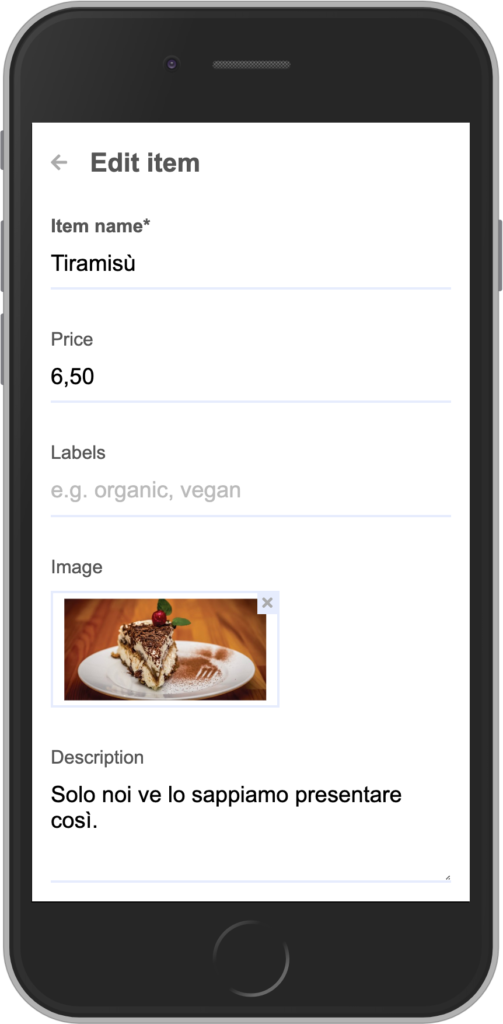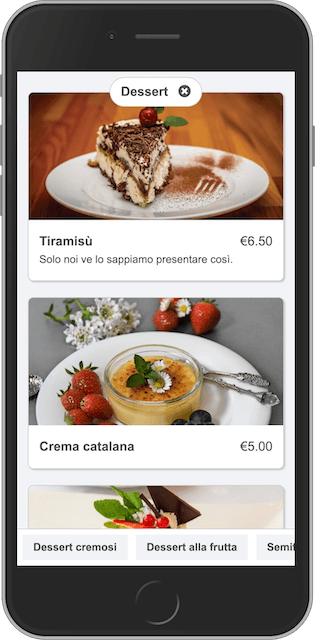 Just add your text and photos and you will get an awesome design that your customers can see on their smartphone, tablet or computer.
This also means that updating your menu on the fly is fast. You can update your menu at any time without effort. And unlike other menu builders you don't have to print everything again!
Unlike the other menu makers that you find online, BuonMenu is made to create digital menus that the users can browser on their smartphone, tablet or computer.
The design is responsive, meaning that, unlike traditional design made for paper, it automatically adapts to the screen size. So you don't have to zoom and move the page around: instead you create a beautiful digital experience.
The online menu created with our menu builder is also easy to browse, since it is organized with multiple categories. In this way, if you have a large menu, you don't have to scroll a long page... You can easily move between different menus and categories. This means that unlike traditional menu builders, that are only useful to create a small menu that fits a single page, BuonMenu is the perfect solution to manage large menus easily.
Also, if you want, you can even add descriptions to your items, without making the menu hard to read: long descriptions are automatically truncated and can be expanded when the user is interested in the item. If you want, you can also add images to your menu items, showing the beauty of your dishes: no more meaningless stock images.
So BuonMenu is a different kind of menu builder: instead of building online a menu just to print it, you can keep your menu online! It's smart and always accessible, both in your restaurant or from anywhere else.
Are you ready to move to digital menu builders?