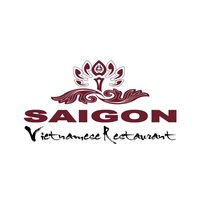 FOOD ALLERGY NOTICE PLEASE BE ADVISED THAT FOOD PREPARED HERE MAY CONTAIN THESE INGREDIENTS: MILK, EGGS, WHEAT, SOYBEAN, PEANUTS, TREE NUTS, FISH AND SHELLFISH. PLEASE ALERT TO OUR SERVER BEFORE ORDER. THANK YOU NO CREDIT CARD ACCEPTED CASH ONLY Our price are subjected to 12% service charge and 14% sales tax
APPETIZER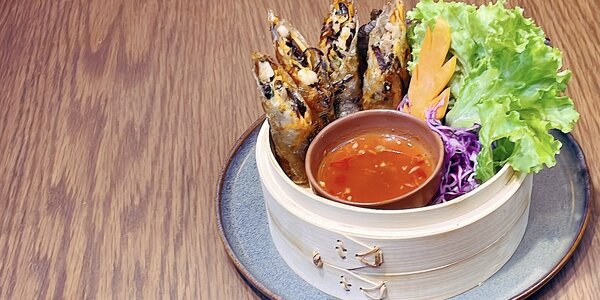 185.00
A2 Chả giò
FRIED SPRINGROLL filled with shrimp, chicken and vegetables serve with chilli garlic sauce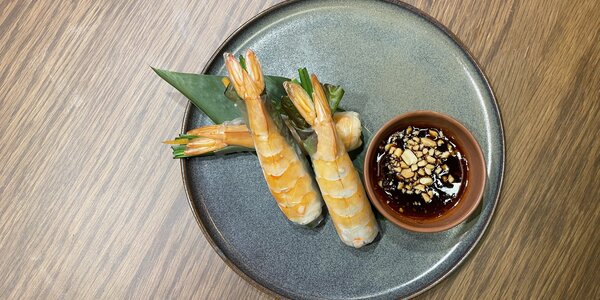 185.00
A3 Gỏi cuốn
FRESH SUMMER ROLL prawn, rice noodle, fresh herbs serve with garlic peanut fermented soybeans sauce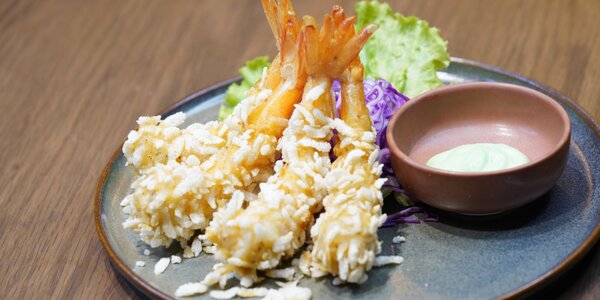 220.00
A5 Tôm chiên cốm
PRAWN TEMPURA coated with rice flake Serve with wasabi mayo sauce
245.00
A6 Mực chiên giòn
CRISPY FRIED RED SEA CALAMARI serve with wasabi mayo sauce
SOUP
245.00
C1 Canh chua hải sản
SWEET AND SOUR TAMARIND SEA FOOD SOUP with pineapple, bean sprouts and vegetables
245.00
C2 Canh rong biển
TOFU SOUP with shrimp, egg, shiitake mushroom and seaweed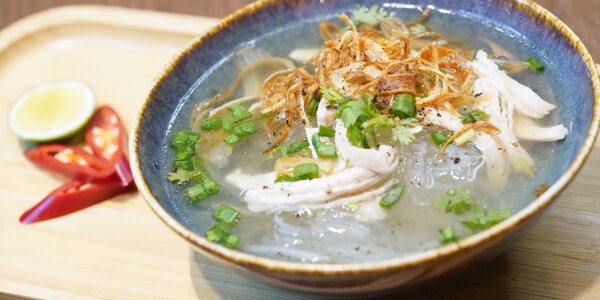 C3 Miến gà
CHICKEN GLASS NOODLE SOUP with cilantro and fried onion
179.00

Small

325.00

Large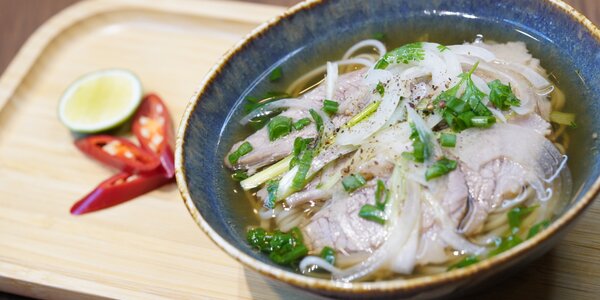 C4 Phở Bò
VIETNAMESE BEEF NOODLE SOUP with fresh herb
179.00

Small

325.00

Large
245.00
C6 Súp hoành thánh
WONTON DUMPLING SOUP filled with chicken, shrimp and vegetable
175.00
C9 Súp Kimchi
SPICY KIMCHI SOUP with tofu and vegetables
175.00
C10 Súp chua cay thịt gà
HOT AND SOUR CHICKEN SOUP with vegetable tofu and black mushroom
SALAD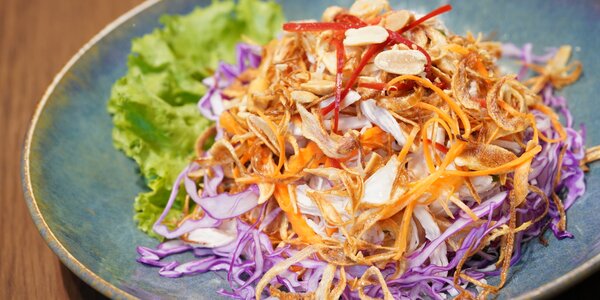 210.00
S1 Gỏi gà
CHICKEN CABBAGE SALAD with fresh herbs, peanut, fried onion served with spicy chili garlic dressings
299.00
S2 Gỏi hải sản
SPICY SEAFOOD SALAD with onion, tomato, lettuce in ginger mint dressing
245.00
S3 Salad trộn thịt bò
WARM BEEF SALAD with cilantro in garlic vinegar soya dressing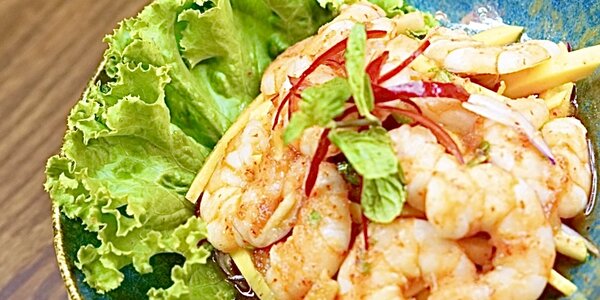 310.00
S5 Gỏi xoài
MANGO SALAD with Prawn, Granny Smith apple, pineapple, carrot onion, in spicy orange dressings
POULTRY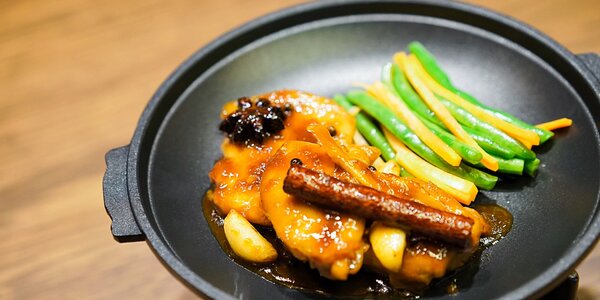 325.00
G1 Gà kho gừng
CARAMEL GINGER CHICKEN (thigh) with mixed Asian spices serve with vegetables
365.00
G2 Gà cà ri
CURRY CHICKEN (thigh) with onion, potato, sweet potato, carot and creamy coconut sauce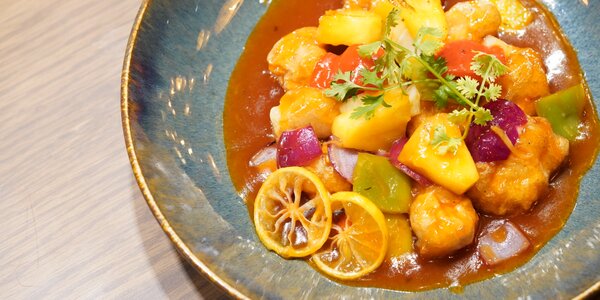 365.00
G3 Gà chua ngọt
SWEET AND SOUR CHICKEN with pineapple, bell pepper and onion
365.00
G4 Gà xào hạt điều
CHICKEN WITH CASHEW NUT, bell pepper, thai basil, onion and carot
458.00
G8 Vịt quay tương
ROASTED DUCK with fermented soya bean sauce
458.00
G9 Vịt cà ri
ROASTED DUCK with oriental spices, pineapple and curry sauce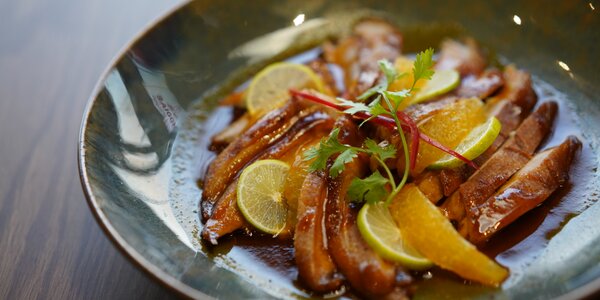 458.00
G10 Vịt quay sốt cam
ROASTED DUCK with ginger orange honey sauce
MEAT
365.00
B1 Bò xào lăn
STIR FRIED TENDER BEEF CURRY with lemongrass and onion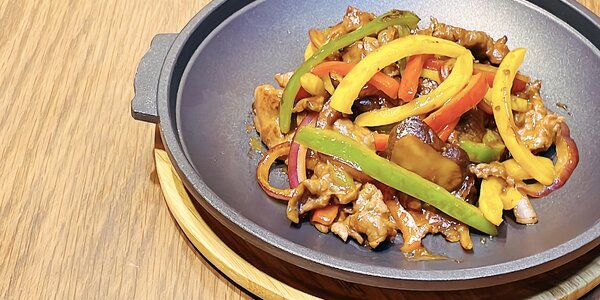 365.00
B2 Bò xào ớt chuông
STIR FRIED TENDER BEEF with bell pepper, onion and shiitake mushroom
385.00
B4 Bò xào kimchi
STIR FRIED TENDER BEEF with spicy fermented ginger cabbage
SEAFOOD
435.00
T1 Tôm rim
PRAWN SAUTE with onion ginger and garlic
435.00
T2 Tôm rang me
TAMARIND PRAWN with onion, ginger and garlic
465.00
T3 Tôm cà ri
PRAWN CURRY with creamy peanut coconut sauce and pineapple
380.00
M1 Mực xào lăn
STIR FRIED CURRY CALAMARI with onion and lemongrass
380.00
M2 Mực xào chua ngọt
STIR FRIED CALAMARI with mixed vegetable and celery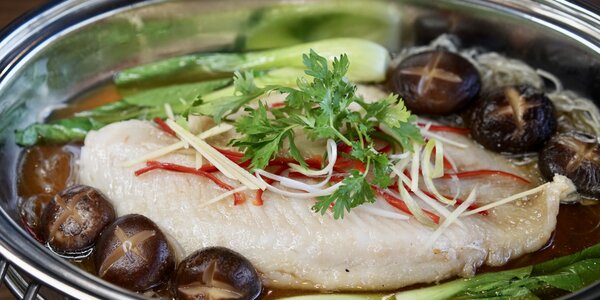 435.00
F2 Cá hấp gừng
STEAM WHITE FISH FILET with ginger, shiitake mushroom and glass noodle
435.00
F3 Cá sốt cam
FRIED FISH fillet in orange sauce
435.00
H1 Hải sản xào dầu hào
H1 STIR FRIED SEAFOOD with mixed asian vegetable in oyster sauce
465.00
H2 Cà ri hải sản
MIXED SEAFOOD CURRY with vegetable and basil
NOODLE - RICE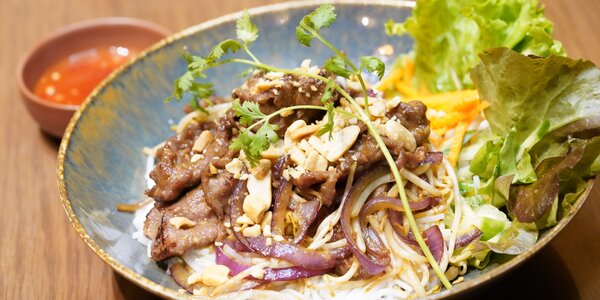 435.00
N1 Bún bò xào
LEMONGRASS BEEF with Rice noodle and mixed basil mint salad, Sprinkle with peanuts .Served with fish sauce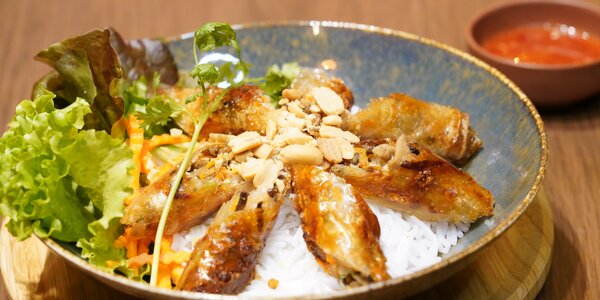 435.00
N2 Bún chả giò
FRIED SPRINGROLL with rice noodle and mixed basil mint salad, Sprinkle with peanuts Served with fish sauce
481.00
N3 Mì xào giòn
STIR FRIED CRISPY NOODLE with mixed seafood and vegetable
481.00
N4H Hủ tiếu xào
STIR FRIED HOMEMADE RICE NOODLE with mixed seafood and vegetable
435.00
N5B Miến xào bò
STIR FRIED GLASS NOODLE with beef and vegetable
310.00
N7V Mì trứng xào rau cải
STIR FRIED EGG NOOLDE with mixed vegetable
60.00
R1 Cơm trắng
STEAMED JASMINE RICE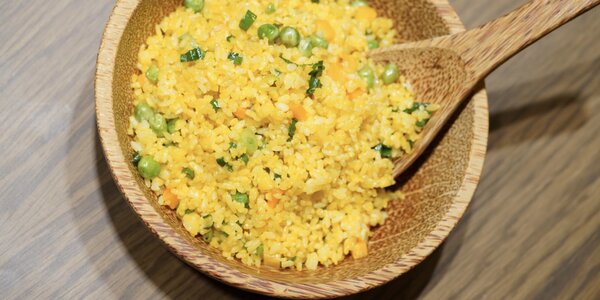 110.00
R2 Cơm chiên trứng
FRIED RICE with Egg and Vegetable
90.00
R3 Cơm chiên tỏi
FRIED RICE with garlic
255.00
R4 Cơm chiên cà ri hải sản
FRIED RICE with mixed seafood curry
170.00
R5 Cơm chiên kimchi
FRIED RICE with ginger fermented cabbage
VEGETABLES
240.00
V1 Đồ kho chay
STIR FRIED MIXED VEGETABLE and tofu in coconut sauce
185.00
V2 Rau cả xào dầu hào
STIR FRIED MIXED VEGETABLE with tofu in oyster sauce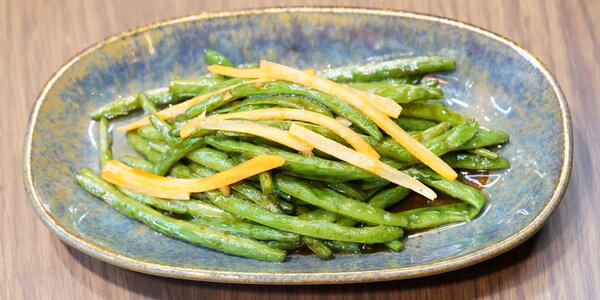 185.00
V4 Đậu que xào tương
STIR FRIED GREEN BEAN with soya bean sauce
245.00
V5 Cà ri rau củ
MIXED VEGETABLE in coconut peanut curry sauce
185.00
V6 Kimchi
PICKLE CHILI GINGER CABBAGE
245.00
V8 Cà ri tàu hủ
TOFU CURRY with shiitake mushroom
DESSERTS
130.00
D2 Chuối chiên
FRIED BANANA with sesame served with vanilla ice cream and Honey
130.00
D3 Kem chiên
DEEP FRIED VANILLA ICE CREAM with chocolate sauce and roasted nuts
BEVERAGES
COLD DRINK
85.00

Ice Tea

50.00

Soft drink

50.00

Nestle sparkling water

35.00

Water small

75.00

Water Large

50.00

Tonic water
HOT BEVERAGES
45.00

Espresso

68.00

Espresso Doppio

54.00

Cafe Macchiato

80.00

Cafe Mocha

60.00

Cappuccino

60.00

Latte

55.00

American coffee

35.00

Lipton tea

60.00

Jasmine/Green tea

80.00

Rose tea / Butterfly pea tea
FRESH JUICE
60.00

Lemon juice

65.00

Lemon juices with mint

65.00

Orange juice
FOOD ALLERGY NOTICE PLEASE BE ADVISED THAT FOOD PREPARED HERE MAY CONTAIN THESE INGREDIENTS: MILK, EGGS, WHEAT, SOYBEAN, PEANUTS, TREE NUTS, FISH AND SHELLFISH. PLEASE ALERT TO OUR SERVER BEFORE ORDER. THANK YOU Our price are subjected to 12% service charge and 14% sales tax
APPETIZER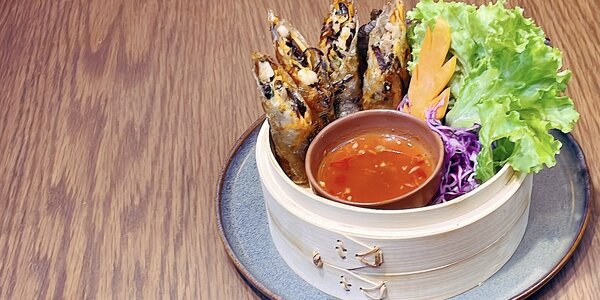 185.00
A2 Chả giò
FRIED SPRINGROLL filled with shrimp, chicken and vegetables serve with chilli garlic sauce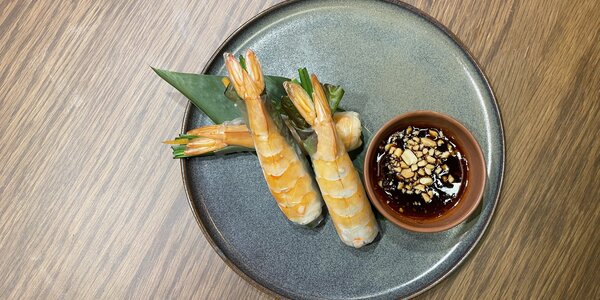 185.00
A3 Gỏi cuốn
FRESH SUMMER ROLL prawn, rice noodle, fresh herbs serve with garlic peanut fermented soybeans sauce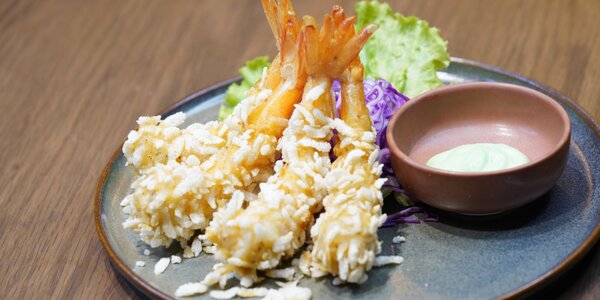 220.00
A5 Tôm chiên cốm
PRAWN TEMPURA coated with rice flake Serve with wasabi mayo sauce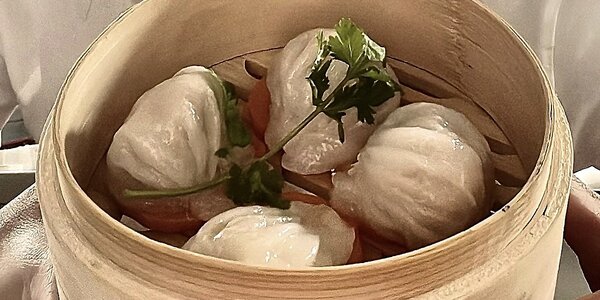 245.00
A10 Há cảo
Steamed prawn dumplings served with lemon soya sauce, fried onion, coriander and chili sauce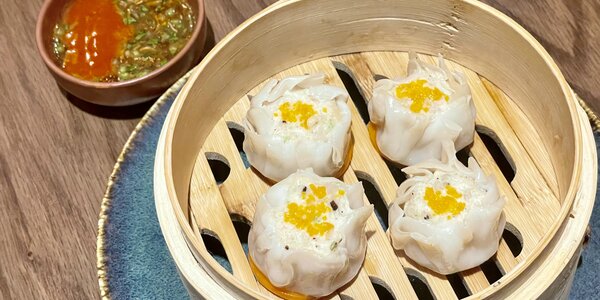 185.00
A12. Xíu mại
Chicken and shrimp dumpling served with sesame dipping
SOUP
245.00
C1 Canh chua hải sản
SWEET AND SOUR TAMARIND SEA FOOD SOUP with pineapple, bean sprouts and vegetables
245.00
C2 Canh rong biển
TOFU SOUP with shrimp, egg, shiitake mushroom and seaweed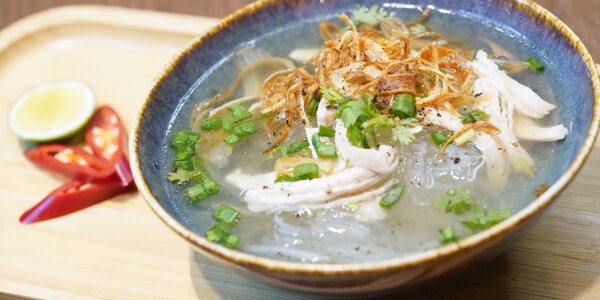 C3 Miến gà
CHICKEN GLASS NOODLE SOUP with cilantro and fried onion
179.00

Small

325.00

Large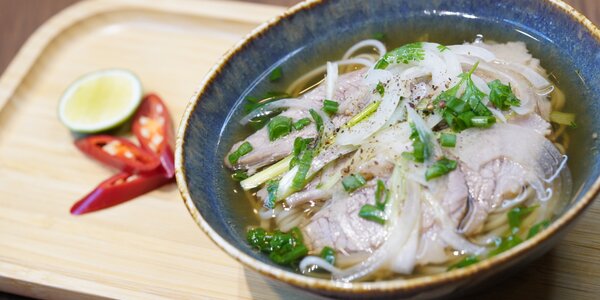 C4 Phở bò
VIETNAMESE BEEF NOODLE SOUP with fresh herb
179.00

Small

325.00

Large
245.00
C6 Súp hoành thánh
WONTON DUMPLING SOUP filled with chicken, shrimp and vegetable
175.00
C10 Súp chua cay thịt gà
HOT AND SOUR CHICKEN SOUP with vegetable tofu and black mushroom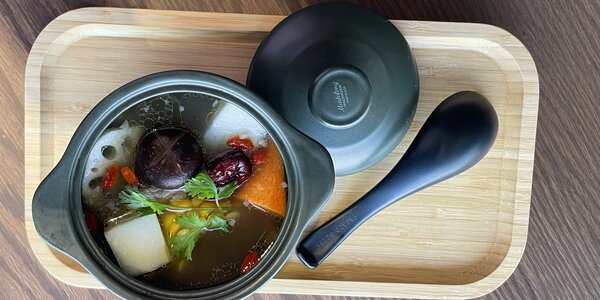 265.00
C11 Súp dưỡng nhan
MELON SOUP with chicken, lotus yam, red date, goji berry, corn, carrot, shiitakes mushroom cordycep mushroom.
SALAD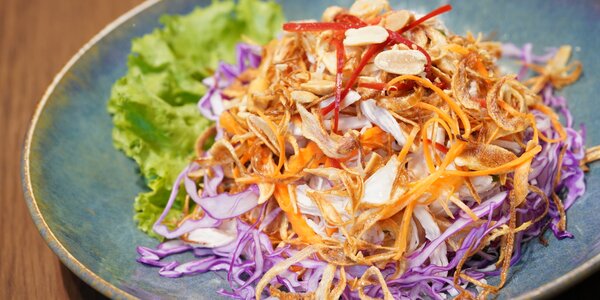 210.00
S1 Gỏi gà
CHICKEN CABBAGE SALAD with fresh herbs, peanut, fried onion served with spicy chili garlic dressings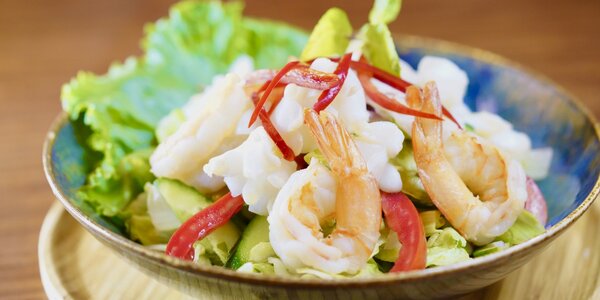 299.00
S2 Gỏi hải sản
SPICY SEAFOOD SALAD with onion, tomato, cucumber, lettuce in ginger mint dressing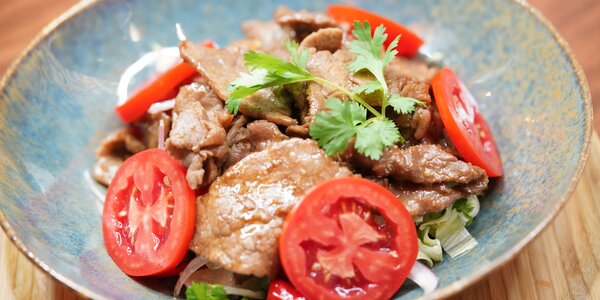 245.00
S3 Salad trộn thịt bò
WARM BEEF SALAD with cilantro in garlic vinegar soya dressing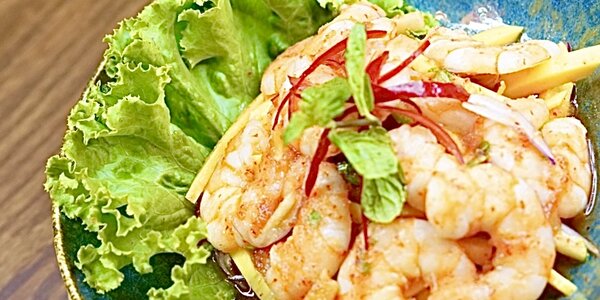 310.00
S5 Gỏi xoài
MANGO SALAD with Prawn, Granny Smith apple, pineapple, carrot onion, in spicy orange dressings
POULTRY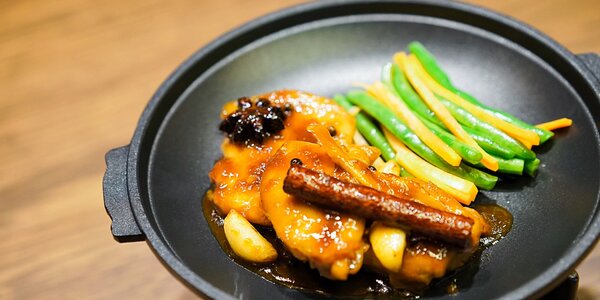 325.00
G1 Gà kho gừng
CARAMEL GINGER CHICKEN (thigh) with mixed Asian spices serve with vegetables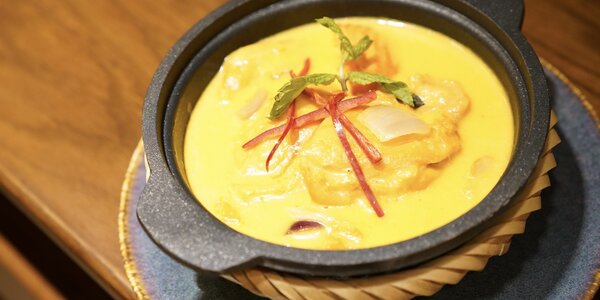 365.00
G2 Gà cà ri
CURRY CHICKEN (thigh) with onion, potato, sweet potato, carot and creamy coconut sauce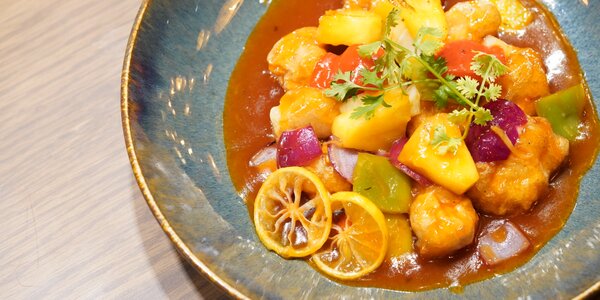 365.00
G3 Gà chua ngọt
SWEET AND SOUR CHICKEN with pineapple, bell pepper and onion
365.00
G4 Gà xào hạt điều
CHICKEN WITH CASHEW NUT, bell pepper, thai basil, onion and carot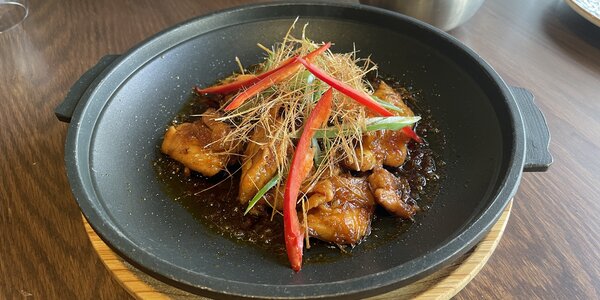 375.00
G5. Gà ram sả ớt
SPICY CHILLI LEMON GRASS CHICKEN coated in brown sauce.
458.00
G8 Vịt quay tương
ROASTED DUCK with fermented soya bean sauce
458.00
G9 Vịt cà ri
ROASTED DUCK with oriental spices, pineapple and curry sauce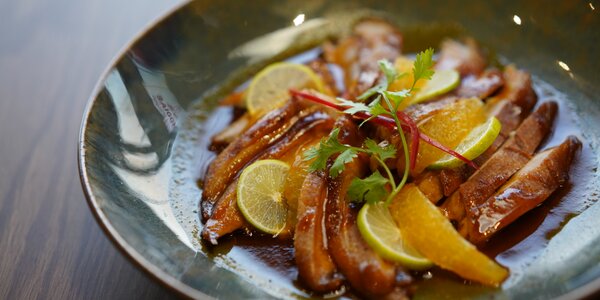 458.00
G10 Vịt quay sốt cam
ROASTED DUCK with ginger orange honey sauce
MEAT
365.00
B1 Bò xào lăn
STIR FRIED TENDER BEEF CURRY with lemongrass and onion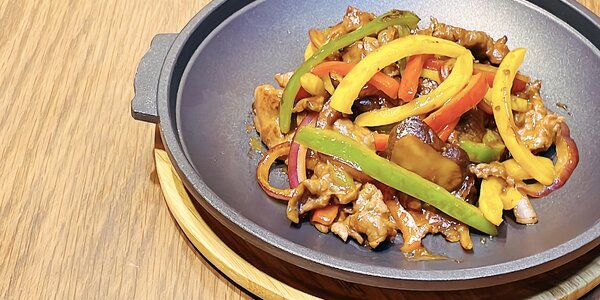 365.00
B2 Bò xào ớt chuông
STIR FRIED TENDER BEEF with bell pepper, onion and shiitake mushroom
SEAFOOD
435.00
T1 Tôm rim
PRAWN SAUTE with onion ginger and garlic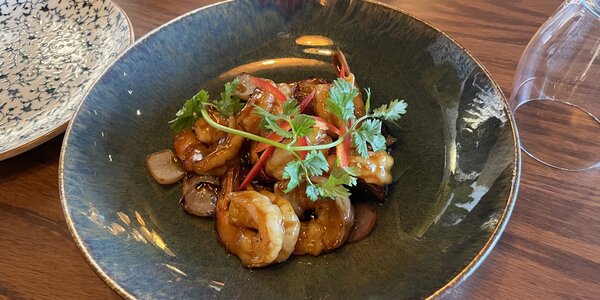 435.00
T2 Tôm rang me
TAMARIND PRAWN with onion, ginger and garlic
465.00
T3 Tôm cà ri
PRAWN CURRY with creamy peanut coconut sauce and pineapple
380.00
M1 Mực xào lăn
STIR FRIED CURRY CALAMARI with onion and lemongrass
380.00
M2 Mực xào chua ngọt
STIR FRIED CALAMARI with mixed vegetable and celery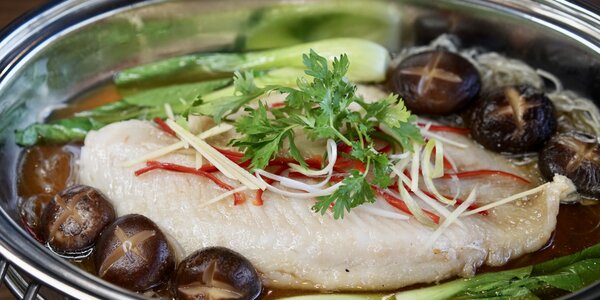 435.00
F2 Cá hấp gừng
STEAM WHITE FISH FILET with ginger, shiitake mushroom and glass noodle
435.00
F3 Cá sốt cam
FRIED FISH fillet in orange sauce
435.00
H1 Hải sản xào dầu hào
H1 STIR FRIED SEAFOOD with mixed asian vegetable in oyster sauce
465.00
H2 Cà ri hải sản
MIXED SEAFOOD CURRY with vegetable and basil
375.00
T4. Đậu Phụ dồn tôm thịt
STUFFED TOFU with prawn, chicken, wood ear mushroom, glass noodles in tomato sauce
NOODLE -RICE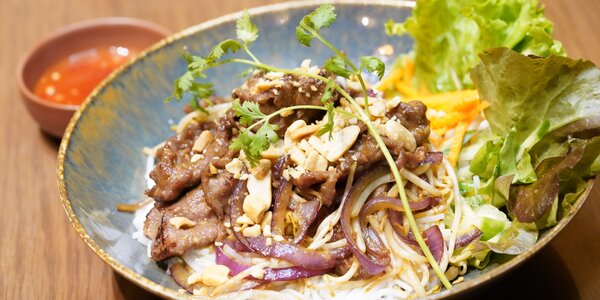 435.00
N1 Bún bò xào
LEMONGRASS BEEF with Rice noodle and mixed basil mint salad, Sprinkle with peanuts .Served with fish sauce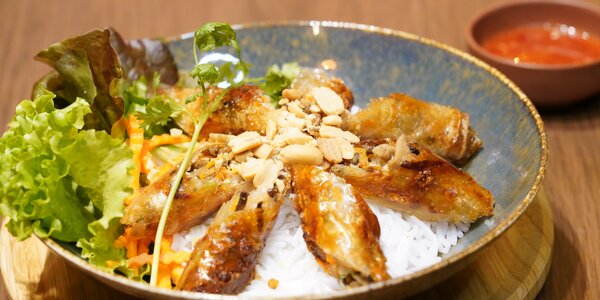 435.00
N2 Bún chả giò
FRIED SPRINGROLL with rice noodle and mixed basil mint salad, Sprinkle with peanuts Served with fish sauce
481.00
N3 Mì xào giòn
STIR FRIED CRISPY NOODLE with mixed seafood and vegetable
481.00
N4H Hủ tiếu xào
STIR FRIED HOMEMADE RICE NOODLE with mixed seafood and vegetable
435.00
N5B Miến xào bò
STIR FRIED GLASS NOODLE with beef and vegetable
310.00
N7V Mì trứng xào rau cải
STIR FRIED EGG NOOLDE with mixed vegetable
60.00
R1 Cơm trắng
STEAMED JASMINE RICE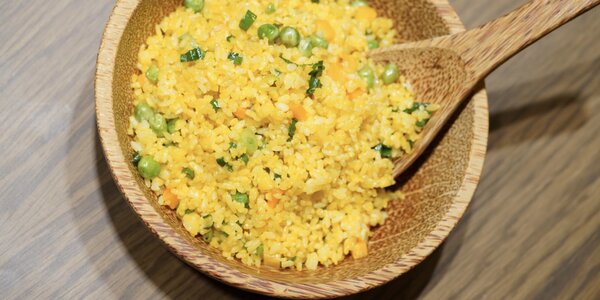 110.00
R2 Cơm chiên trứng
FRIED RICE with Egg and Vegetable
90.00
R3 Cơm chiên tỏi
FRIED RICE with garlic
255.00
R4 Cơm chiên cà ri hải sản
FRIED RICE with mixed seafood curry
170.00
R5 Cơm chiên kimchi
FRIED RICE with ginger fermented cabbage
VEGETABLES
240.00
V1 Đồ kho chay
STIR FRIED MIXED VEGETABLE and tofu in coconut sauce
185.00
V2 Rau cải xào dầu hào
STIR FRIED MIXED VEGETABLE with tofu in oyster sauce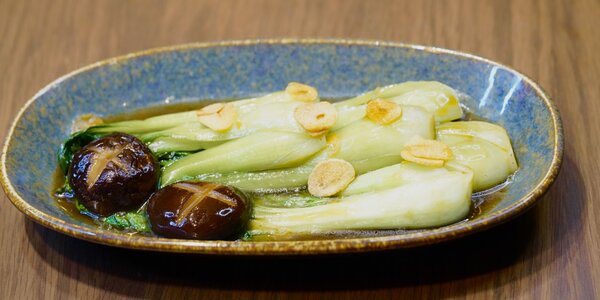 185.00
V3 Cải thìa xào nấm đông cô
STIR-FRIED BOKCHOY with shiitake mushrom in oyster sauce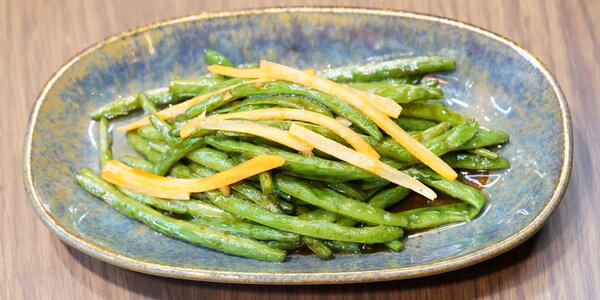 185.00
V4 Đậu que xào tương
STIR FRIED GREEN BEAN with soya bean sauce
245.00
V5 Cà ri rau củ
MIXED VEGETABLE in coconut peanut curry sauce
245.00
V8 Cà ri tàu hủ
TOFU CURRY with shiitake mushroom
DESSERTS
130.00
D2 Chuối chiên
FRIED BANANA with sesame served with vanilla ice cream and Honey
BEVERAGES
COLD DRINK
85.00

Ice Tea

50.00

Soft drink

35.00

Mineral water small

50.00

Nestle sparkling water

50.00

Tonic water
HOT BEVERAGES
45.00

Espresso

68.00

Espresso Doppio

54.00

Cafe Macchiato

80.00

Cafe Mocha

60.00

Cappuccino

60.00

Latte

55.00

American coffee

35.00

Lipton tea

60.00

Jasmine/Green tea

80.00

Rose tea / Butterfly pea tea
FRESH JUICE
60.00

Lemon juice

65.00

Lemon juices with mint

65.00

Orange Juice